B9 Visa® Debit Card with up to 5% cashback
Pay everywhere with you B9 Visa® card of withdraw cash from an ATM.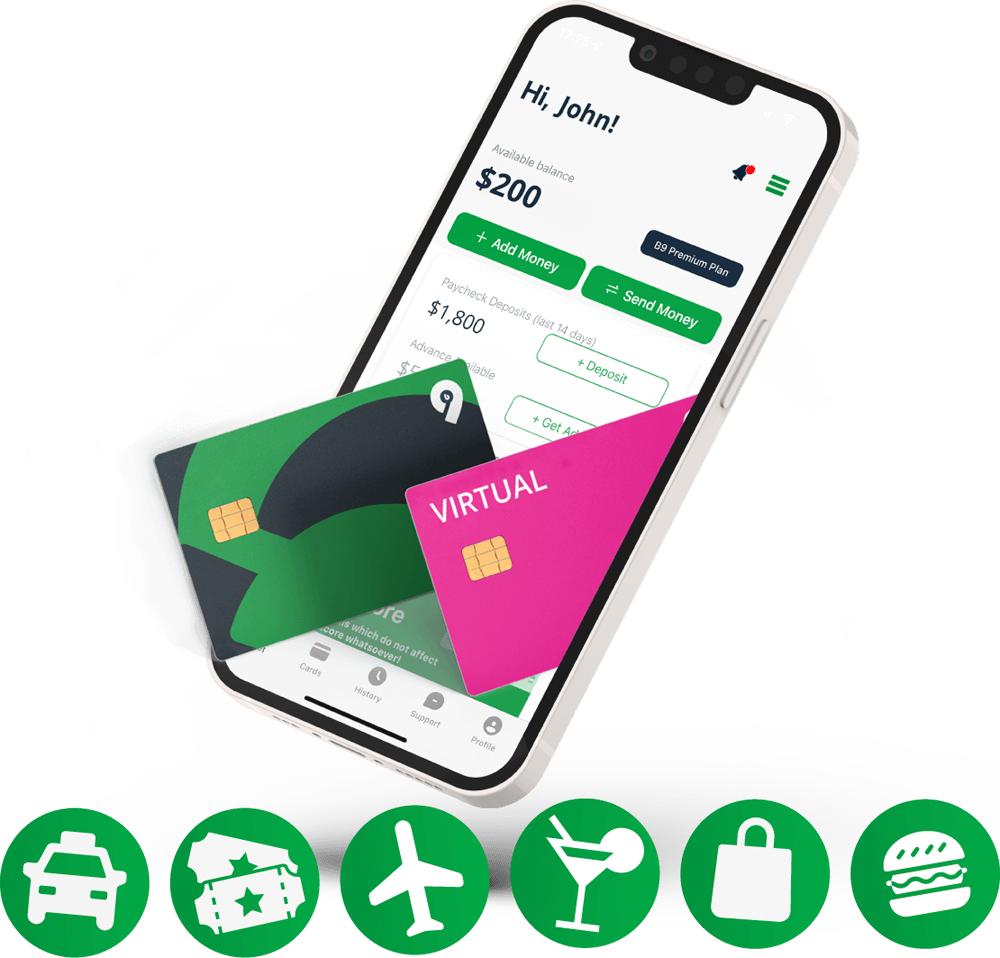 The first B9 Visa® Debit Card
With up to 5 % cashback
Select your personal categories
Select the categories you want to use the most every month. Cashback will be deposited by the 5th of the following month.
Spend at least $200
You will begin to earn cashback as soon as you reach $200 worth of the categories you selected.
Cashback Reward Amounts and Criteria
B9 is not a Bank. B9 Card is issued by Evolve Bank & Trust pursuant to a license from Visa. Rewards are not offered by Evolve Bank & Trust and are instead offered and managed by B9. The amount of cashback that a you receive each month is dependent on the your aggregate spending each month at cashback eligible merchants. The cashback you receive may vary from month to month and year to year. All members with a B9 Debit Card are eligible for cashback rewards and will be given an opportunity to select up to 4 merchant categories when they sign-up for cashback, for which the member may receive cashback rewards, so long as the member satisfies the minimum monthly aggregate spending requirements of $200 with the selected MCCS. You may sign up for cashback rewards on the B9 App.
| | |
| --- | --- |
| Cashback Amount | Criteria |
| 0.5% to 5.0% | Depends on the merchant category codes selected and upon meeting the required spending. |
How and When Will I Receive My Cashback Rewards
Your cashback rewards will be automatically deposited into your B9 Account and can be used for any purchase or can be electronically transferred to a different account.
Monthly cashback amount will be credited to your account on the 5th of the following month.
GET YOUR B9 VISA® DEBIT CARD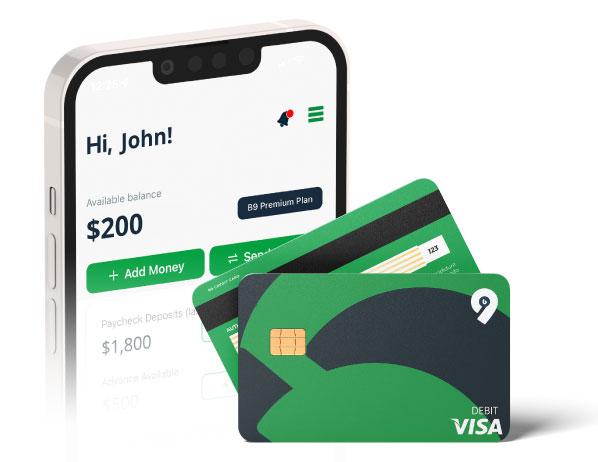 Everyday banking with
NO credit checks,
NO minimum balance,
NO overdraft fees.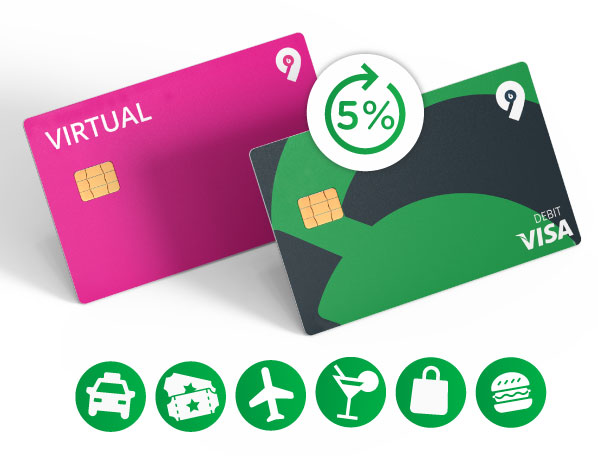 Up to 5% cashback
Choose the card you prefer- physical B9 Visa debit card or a virtual card. Cashback is available for both.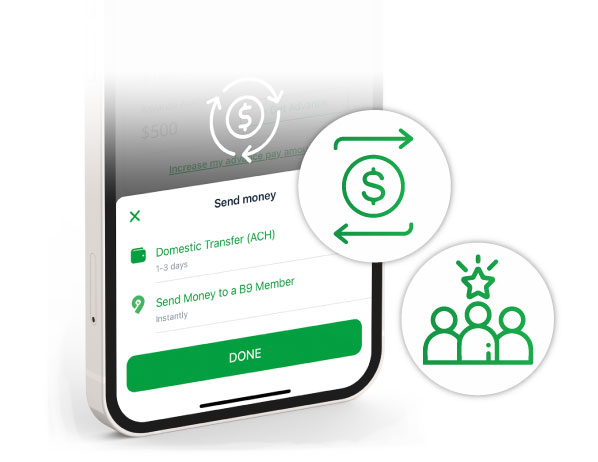 Bank
transfers
Transfers in seconds, ACH is also available.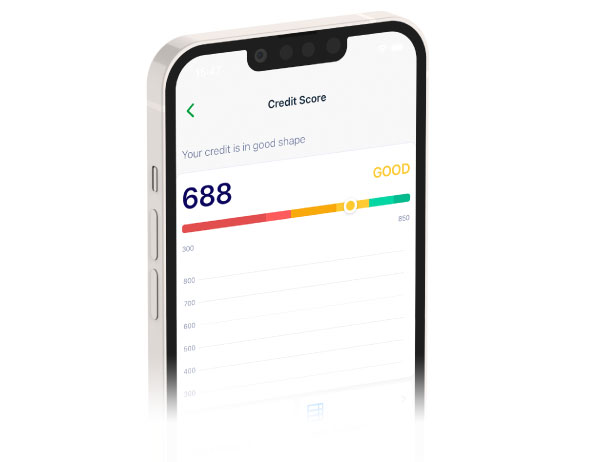 Credit Score under control
Keep your credit score under control. Get access to your credit report and monitoring included in the Premium Plan.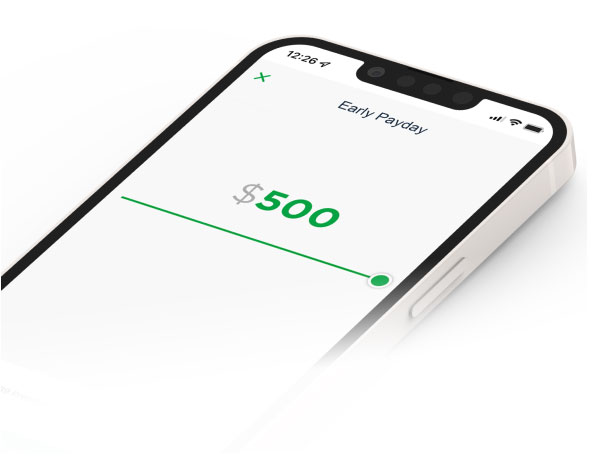 B9 Advances for employees
Combining work and benefits, switch your work-related income to B9 as well and get paid up to $500, 0% APR.
Antonio Sherrell
Best Bank Advancement Incentive. I was browsing through the app and came across B9 and decided to give it a try. So after downloading it and seeing i can set up direct deposit via my employer. The best thing is you can get an advance up to your full paycheck.
Author
I was in a stressful spot when b9 helped.me with the money I had to come up with to keep my power on I have recommended b9 to multiple of my friends thank you b9
Marcus Goodwin
B9 is a awesome and really helps when you need extra money.Also I like the fact it helps wen your are in a quick emergency , I would most definitely recommend them to anyone.
Javier Fernandez
So far this financial tool has delivered all the offerings of its platform including the most attractive which is incremental in pay advances depending on the consistency of your employee direct deposits. The app is pretty simple and user friendly
Danielle Cullum
The cash advance is the most simple process with B9! No credit check, you don't have to have a qualifying direct deposit into your account before you're eligible for the advance, it's completely hassle free. It honestly was a life saver and I was able to get it instantly in a very desperate time of need because of financial struggles due to the pandemic. It might have just been $100, but it put food on the table for me and my 2 year old son until I received my paycheck 4 days later! Thank you B9!
Jabria
Choose B9. B9 has given me the flexibility to do more. With the services they offer on their platform, I am confident within myself and my finances. Thank you B9.
Chris B
They gave me an advance when nobody else would. They also made it super easy to switch my direct deposit over. Extremely helpful customer service
Jaci
Quick and easy cash advances and no problem with debit card for purchases! Works for cash app as well and comes in mail fairly fast. Definitely recommend using so far. Gives me a long time to pay back advance as well
Miishacamille
Sign up was easy. Got an advance the same night. The only problem I had was using the money right away. I had trouble activating the virtual card. Other than that does what they claim to do.
Aerie Morgan
B9 has helped me through my financial struggles now for the last three weeks. They make it easy to get a loan till payday and easy to pay back the loan on payday.
shay
I love this company gave me a loan after my first deposit they did a awesome job when i lost my card as well will be banking with them for a long time
Elia Ortega
To be quite honest if it wasn't for this app I wouldn't be surviving as well as I have been these last couple of months. Being a single mom of two young kids working a part-time job and going to school quite difficult but with this app I was able to take myself a few times with the headaches of not being able to pull out any additional funds
Frequently Asked Questions About Banking and Advances
To set your B9 card as your default card, follow these steps for your Android device:
Google Pay (Android devices)
- Once in the Google Pay app, on the bottom, tap 'Payment'
- Tap the payment method you want to make your default
- Tap 'Make default'
How do I order Virtual B9 Debit Card?
Steps to get your first B9 virtual card:

Step 1. Open your B9 account

Step 2. Order your first virtual card, go to the Cards Tab -> Tap "Issue a virtual card".

Your virtual card is already activated and cannot be reissued as of yet but will be very soon.
How do I activate my B9 Visa Debit Card?
You will be able to activate physical card 1-2 business days after you order it.

The steps to activate your card are as follows:

Login -> Cards Tab -> Click on Activate button -> Set a PIN

Virtual card doesn't require the activation.
Why my spending doesn't count towards Cashback?
One of the common scenario is the transaction doesn't include correct MCC* code.

List of MCC codes for each category can be found here: Terms of Service

*Merchant Category Codes ("MCCs") - are four-digit numbers that a credit card issuer uses to categorize the transactions consumers complete using a particular card. Payment brands use merchant category codes to classify merchants and businesses by the type of goods or services provided in order to track and restrict transactions.
Having problems adding external card?
These are the most common problems with the inability to add an external card:

Is the external card you're trying to add is US issued debit card or prepaid card and not a credit card?
Did you make sure the information you typed is correct?
Are the billing addresses for both cards the same?
If above steps line up and error still occurs, please contact our customer support team for further investigation so we can get you up and running!
What happens to my cashback rewards if I return a purchase?
In the event, that purchase is returned, voided, or canceled prior to the cashback being awarded to the member, the cashback rewards attributed to the return, voided, or canceled purchase will be voided and not deposited into the member's account.
In the event a purchase is returned, voided, or canceled after the cashback is awarded to the member, the cashback rewards attributed to the return, voided, or canceled purchase will negate an equal amount of cash back rewards to be awarded to the member in subsequent months until the balance of the returned, voided or canceled purchase cashback rewards is satisfied.
To set your B9 card as your default card, follow these steps for your Apple device:
Apple Pay (iOS devices)
- Go to Settings > Wallet & Apple Pay
- Under Transaction Defaults, click 'Default'
- Select your B9 debit card as your default
Missing credit/transfer Merchant Refunds:
Refunds depend on the refund policy of the store (merchant) you are expecting the refund from. Many stores (merchants) will refund your purchase anywhere from a few hours to a few days. Depending on the policy, many stores (merchants) must process and authorize a refund prior to it being posted to your B9 account. Please allow for some time so that the merchant's refund policy may be fulfilled.

Lost my B9 card, what should I do?
Please follow these steps in case you lost your B9 card:
Lock your card to secure your funds
Order new B9 card
How does B9 Cashback work?
Who doesn't love Cashback? 🤑🤑🤑 At B9, we offer one of the few debit cards that give cash back! Here's how it works:

1. First, Activate Cashback. Go to the Profile tab of the app and make sure that you activated the Cashback for the month. This is to ensure that your purchases go towards eligible Cashback rewards.

Important! To get Cashback for the month, need to activate Cashback between the 25th of the previous month and to 24th of the current month. Please make a note that spending towards Cashback will be counted from the moment of Cashback activation.

2. Select the categories you want to use the most every month and set it up.

3. Start spending towards Cashback. You can track your Cashback spendings and Cashback amount by going to Profile tab → Cashback.

Cashback is deposited by the 5th of the following month.
How do I order my first B9 card?
B9 Physical card
Steps to get your first B9 physical card:
Step 1. Open your B9 account

Step 2. Add a minimum of 10$ to your B9 account

Step 3. Order your card, go to the Cards Tab of the app and you will see a card with a prompt asking you to "ISSUE PHYSICAL CARD". Once issued, it may take a few hours for card details to be displayed.
B9 debit cards have a cost of $10 and will go towards directly paying for the card. After ordering your first card, subsequent cards do not require a minimum balance.

Step 4. Cards take 5-10 business days to be delivered. If your card has not arrived after 10 business days, please reach back out to Support in B9 app or support@bnine.com.

Step 5. Activate your card after 1-2 business days following these steps: In the Cards Tab tap on the Physical card -> Click on Activate card -> Set a PIN
How do I add my card to a digital wallet?
To find your Physical or virtual card information in the app:

Click on the Cards tab of the app
Click on View Details on your B9 card
You can add your B9 virtual or physical card to use with Apple Pay, Google Pay, or Samsung Pay. B9 makes it easy by having a button right under your B9 card in the Cards tab that allows you to connect to your digital wallet.
Cashback is deposited by the 5th of the following month.

If I report a fraud on my account or my card as lost/stolen, will I be able to keep the cashback rewards that are attributed to the fraudulent activity?

No, as part of our commitment to the security of our members, B9 will not hold you liable for any fraudulent purchases made on your account without your permission and will therefore void cashback rewards attributed to fraudulent activity.
Cashback rewards attributed to legitimate activity will not be impacted by the fraud on the member's account.
Lost my B9 card, what should I do?
Please follow these steps in case you lost your B9 card:
Lock your card to secure your funds
Order new B9 card
Free download for iOS and Android
No extra apps needed to move your funds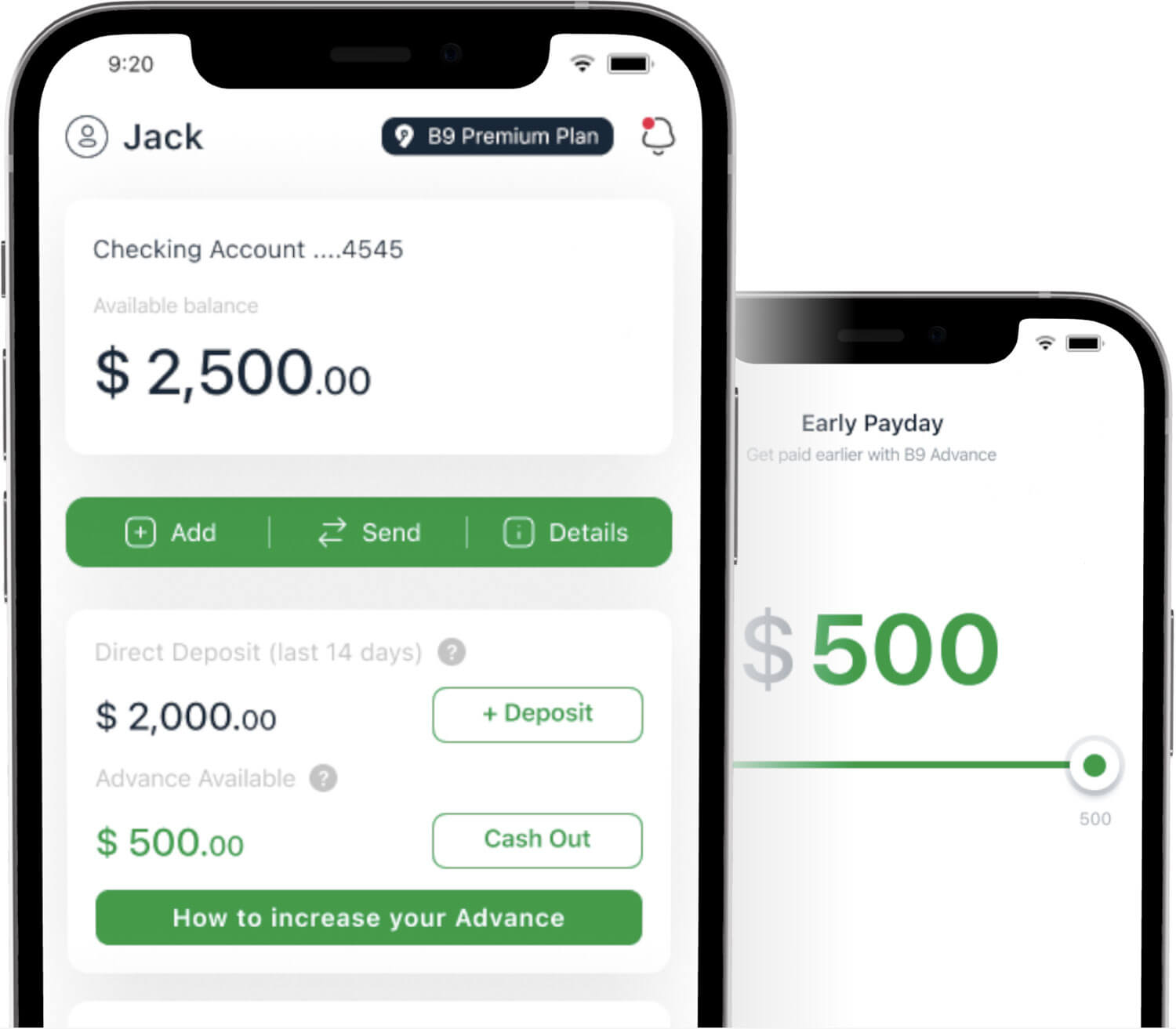 Legal
Contacting B9 Customer Support
B9's Customer Success Team is here to help when you need it!
For faster assistance, our FAQ has answers for our most frequently asked questions and is available to you 24/7.
In-App Support
Our agents are available for B9 members via the in-app support tab:
Mon-Fri: 5 AM to 9 PM Pacific Standard Time (8 AM to 12 AM Eastern Standard Time)
Sat-Sun: 6 AM to 6 PM Pacific Standard Time (9 AM to 9 PM Eastern Standard Time)
Email: You can email us at Support@bnine.com, one of our friendly Customer Success Team members will answer in 24-48 hours.
For additional support you may phone us by clicking on the FAQ for our hours of availability.
Complaints
Mbanq's banking partner, Evolve Bank and Trust, Member FDIC. To report a complaint relating to banking services, email compliance@mbanq.com
Free virtual credit card account
✅ Free virtual credit card account
✅ All in one mobile app!
✅ Free virtual credit card account - Bnine
Free virtual business card app
There is no doubt that the major part of humanity got used to employing debit and credit cards in their daily life and each financial affair. Not a long time ago, the banking system introduced a Virtual Card. It is a computer-generated representative of your physical plastic card in your smartphone.
With its help, you can perform online purchases without having a real card number nearby.
Do not be afraid to make the online card and deposit funds there since Virtual Card is able to prevent fraud in the similar way the common cards do it. Therefore, online payments are secured transactions and are performed billions of times per day by millions of virtual credit card issuers.
Free virtual business card design
Benefits of Virtual Cards
Not to mention that nowadays it is almost necessary to have a Virtual Card. However, there are still some people who doubt the usefulness and worthiness of it.
Below you will find the list of advantages of having a digital card:
When establishing Virtual Card, you get access to the mobile app (any kinds of digital wallets) where all the card information is stored. Not only can you see the card number, expiration date, and CVV, but also have greater control over the money management
Moreover, in this app, you can set the spending limit or change the settings for a particular card without contacting your bank. There is also a possibility to launch bonus programs, such as cashback for the recurring payments and earn rewards via each online payment
The most significant feature is that you get an instant notification on your phone each time the money is withdrawn from the card or when you spend limits. It is a special level of security, so you will know when scammers are trying to use your funds
Except for online shopping, you can perform any transaction with your virtual card. For instance, transferring money from one account to another, requiring money, and even applying for a loan. To do it, you will not even need any card details, only your phone password and enough money in your bank account
Free virtual credit card apps
There are many other benefits from having a digital card, such as savings accounts or favorable terms of use for the issuers, but to mention them will take a lot of time, so you would better try it all by yourself!
Free virtual credit card no deposit
To activate your virtual card, you have to know the actual card number, expiration dates, CVV code, and the issuer`s name.
Choose the relevant virtual card issuer`s app (depending on your banking system), and enter the card information.
Choose one of the following ways of using your card: Google Pay, Samsung Pay, Apple Pay. Proceed to fill in the information (like security code, personal information of the issuer, etc.) in your online account.
If you already have funds on another virtual card, you can transfer them to the new one. If not, you can deposit cash through the ATM.
Virtual Debit Cards
You can convert your physical debit card into a virtual one easily by downloading the app of the card representative and entering the card details. You will be able to use the card both virtually and in real life. However, note that different cards require additional fees due to the service.
Virtual Credit Cards
A virtual credit card is a more complicated option, yet still easy to create and use. As previously, all you have to do is download the relevant app and set the spending limit. After an established period of time, you will have to add money there to cover the accumulated debt.