B9 Advance is a free financial benefit built with you in mind.
Built right into the B9 Wallet, B9 Advance helps you cover unexpected expenses between paydays.
B9 ADVANCE HELPS YOU HAVE ACCESS TO CASH WHEN YOU NEED IT MOST
Available within the B9 Wallet app, B9 Advance gives you access to money between paydays. It's repaid automatically from your paycheck.
No credit checks
No additional fees
No additional interest
Best of all, it is free for you!
Smart limits are in place to help you from overspending.
Funds available instantly with a B9 debit card*
FOR WHOM B9 ADVANCE IS BEST SUITED
GIG workers
Hard workers
Immigrants
Students
Anyone with credit history problems or without credit history
SURPRISE EXPENSES CAN POP UP AT ANY TIME
Life never goes according to plan. B9 Advance has you covered!
20% of households have less than $400 in their checking or savings accounts.
*The 2019 Survey of Consumer Finances (SCF)
Many of the people who have $400 or more available to them likely have already separated that money for another obligation (and so, in other words, the cash isn't really available to them).
*The 2019 Survey of Consumer Finances (SCF)
HOW IT WORKS
Access your B9 Advance right in your B9 Wallet.
Set up your direct
deposit allocation
Via paper form submitted to your employer
Directly through the B9 App
Funds are credited after the first direct deposit to B9
To increase
your limit
Increase your direct deposit allocation
Add more funds to your B9 account to increase your limit
---
Just a quick recap of how our famous B9 Advance works:
STILL HAVE QUESTIONS? WE HAVE ANSWERS
How does it work?
Switch your direct deposit to your B9 account
here
> Wait until you get the first funds credited to your B9 account > Check out your B9 Advance allotment and cash out your earnings earlier -- no more waiting around for your paycheck!
How much does it cost?
It's completely FEE-FREE!
What if I send funds out of my B9 account?
If you direct funds outside of your paycheck to your B9 account those funds will not count towards your payroll deposit.
All your questions answered
Darliene
I was in a tight pinch and b9 advanced me $100 at 1st I wasn't sure about this app but they actually pulled through. I'm definitely sticking with b9:)
Taylor Hillhouse
B9 from the jump!!!! B9 seriously saved my behind off the jump! I was so thankful to have stumbled upon B9 and even more thankful when they advanced me $100 instantly! I was on the app maybe 5 minutes total & had $100 advanced to me!! Thank you so much B9!! You're a life saver for sure!!!!!! -forever greatful.
Brittnay Setting
B9 has been so helpful in the past recent weeks! Our family came into some rough patches and this app was the perfect way of advancing my own hard earned money and not charging me an arm and a leg to receive it sooner! I am so happy I signed up and will continue using it! the creator is the real GOAT!
Dino Nunes
This is a fantastic card and they advance on your pay and every time you pay it back it goes up a little bit higher for the old grants even more money it's a great great service very happy I won't go anywhere else
Carmen Jenkins
B9's tools are some of the best in the business. The bank also offers a full-service online experience and a great mobile app. They also have excellent checking and savings accounts, with no monthly fees, and a large ATM network.
Charles Mcclenan
The joy I never knew until now. I was skeptical at first but it wasn't a scam. I was able to get a part of my check the first time and it had me questioning the app. But after my second deposit I was able to get my whole check and I never looked back. Never felt financially secure before this app knowing that am covered for emergency by my own money best feeling in the world. Thank you guys for giving me and my family joy unknown
Angela Russell
B9 has come in clutch a lot of times B9 has helped me so much in times that were rough I appreciate this app so much
Kayla Krauter
Amazing app, it's so easy to use! Customer service is always super quick to respond and resolve whatever needs their attention. I always know my money's safe when I bank with B9!
Joe Hansbrough
Very easy to use customer service was really quick to fix the problem that I had will definitely be recommending this to my family and friends
Jennifer
I was skeptical at first about the advances but it's great and easy to pay back. I also thought I wouldn't get paid 2 days early anymore but I do! I love my b9 account
AG
This is a great app to have especially when you're running low on cash and don't know what To do you can always count on b9 to come through
Marcus Goodwin
B9 is a awesome and really helps when you need extra money.Also I like the fact it helps wen your are in a quick emergency , I would most definitely recommend them to anyone.
GENERAL FREQUENTLY ASKING QUESTIONS ABOUT BANKING AND ADVANCES
How to get an online debit card?
An option of creating an online debit card depends on your bank. If it has such a function, then your first action would be to find out how to order it. In some banks, it is done through its application, in others by the website. The third possibility is to directly call the bank and find out their instructions. In any case, you will have a possibility to find out about documents that are needed, the blanks that you should sign, and the approximate amount of time after which the card will be ready. The first two are similar in most banks, but the last one can vary. In general, your debit card will be in process for no longer than two working weeks. Nowadays, many banks are able to create cards faster, but it also depends on your country and city.
If you have your own bank account, approved and legitimate, you can apply for receiving a debit card connected to your bank account. To get the card, you need to provide valid documents, such as a driving license, state ID card, social security, address proof, etc. There exist several simple ways to get your debit card: Get the debit card online. Go to your bank's official web page or use their mobile applications. Mind that you will not be able to use your debit card until the activation process is finished. To complete the process, you should call the phone number located on the backside of the debit card or use the App; this will activate your card. Otherwise, conveniently use your bank's mobile app for this purpose.
How to get money off a debit card online?
Unfortunately, it will not be possible to get cash on hand online because the money on the card is stored in cloud storage. In order to withdraw cash, you definitely need an ATM; use it by entering your PIN-code and click on the "cash withdrawal" button, then select the amount you need, and do not forget to pick them up. If there is no ATM near you, then in almost all places, there is the possibility of paying by card, where cash is not needed. And if you need to give money to another person, then use an Internet banking application to quickly transfer money to another card.
How to check how much money is on a debit card?
There are several ways to check the amount of funds on your debit card. The first is to use online banking, which is linked to your card. Just go to the application and see the balance; the main thing is to have an Internet connection. The second option is to try to find the nearest ATM, use it by entering the PIN code and selecting the "balance check" function. The amount that is stored on the card should appear on the screen. The last method is to call the bank's hotline, wait for an answer, and request the card balance. Perhaps you will be asked for some data to verify that you are the owner.
How to transfer money from PayPal® to a debit card instantly?
Unlike a regular transfer from PayPal® to a bank account that usually takes from one to three days and is free for users, to do an instant transfer, you have to pay a fee. But it takes only a few minutes. Visit the Summary section and tap on Accept the money. After that, select Transfer money and specify that you want to receive it on your debit card. Make sure that you fill in the information about your debit card in the section of Instant transaction. Fill in the sum, check if the data is correct and confirm the operation.
How to transfer money from PayPal® to a debit card?
PayPal® is one of the world's largest electronic debit payment systems. With its help, a large number of money transfers are carried out. To make a transfer from PayPal® to Sberbank, two necessary conditions must be met: - an active wallet in the payment system - a number of the card account tied to it in our bank. To withdraw money from your PayPal® wallet, you must bind a debit card to it. It's not about the number of the plastic, but about the details of the client's personal account and its BIC. It is important to remember that the card account number consists of 20 digits and the bank's BIK - of nine.
How to order new debit card?
Ordering a debit card nowadays is easier than ever. Just log in to your bank's website and order issuing of new debit card. You can also perform this procedure using your bank's mobile app. If you don't want to do it on the Internet, you can contact the bank's call center, answer your secret question and issue a new card or visit the Banks branch personally. To become a new customer, go to the bank's website register a new profile. You will be asked to submit your personal information. After creating an account bank, you'll have to wait for an approval message. If you are not approved, visit the bank's branch and finish the process.
How long does it take for a debit card to arrive?
The delivery time for your new or reissued debit card depends on your bank. In most situations, cards will be delivered within 5-10 business days. If you need the card earlier, don't despair. Some banks can issue a card the very next day or after a couple of business days. Also, delivery times depend on the address. Perhaps the fastest way would be to pick up the card yourself at a bank branch. You can always clarify the terms by calling the support service.
At what age can you get a debit card?
Basically, a person cannot become a cardholder until they reach 18. However, there are two cases when a minor (a person under eighteen years old) can own and use a debit card. The first case is called a "student account" - this means that a teenager gets to use a personal debit card. A guardian's signature is necessary. The second case is when a minor receives their own debit card that is actually tied to their guardian's account. Thus, when a minor makes a payment, the funds are withdrawn from their guardian's account.
How to transfer credit card money to a debit card?
If you are the owner of a credit card but would like to receive cash from it, in some circumstances, this can be done. To discover if you have such an opportunity, read the rules for handling the card. In most cases, you can withdraw cash from your credit card at ATMs. There is regularly a particular limit on such actions. And you ought to pay a commission. Its size is determined by the bank, and that can be expressed either as a percentage or in a certain amount. Besides, you can often send funds to a debit card. Before initiating a transfer, make sure that the articles of such a transaction are suitable for you. You will most likely pay a certain fee for the money transfer. You can consider both options from the side of additional costs and choose whichever is more beneficial for you.
How to renew a debit card?
As a rule, if the card has expired, you will not be able to use it for making purchases and other transactions. Also, if you have enabled automatic payments, you will receive a message about their cancellation. However, it is not a reason to worry and be nervous because you can extend the validity of debit cards through a bank. If you contact the bank to reissue the card, your card number will remain the same (it is 16 digits), but the CVV number will change. If your card is lost or stolen, the bank will still completely change all your card details to prevent fraud. To renew the card's expiration date, contact the bank with this request. Within a few days, our specialists will contact you and inform you about the possibility of obtaining a new card. After receiving the card, be sure to activate it either at the bank or at home yourself. An important point is the disposal of the old card. Cut it into small pieces so that no one can use it for fraudulent purposes.
How long does it take to get an unemployment debit card?
An unemployment insurance debit card is a card that one may need to receive unemployment compensation. To get such a card, one will have to sign up for unemployment benefits. After that, the unemployment debit card will be sent to a client via mail. Usually, it takes from seven to ten business days for a new card to arrive. When the card arrives, a user will need to activate it to be able to receive unemployment compensations from the state.
Free download for iOS and Android
No extra apps needed to move your funds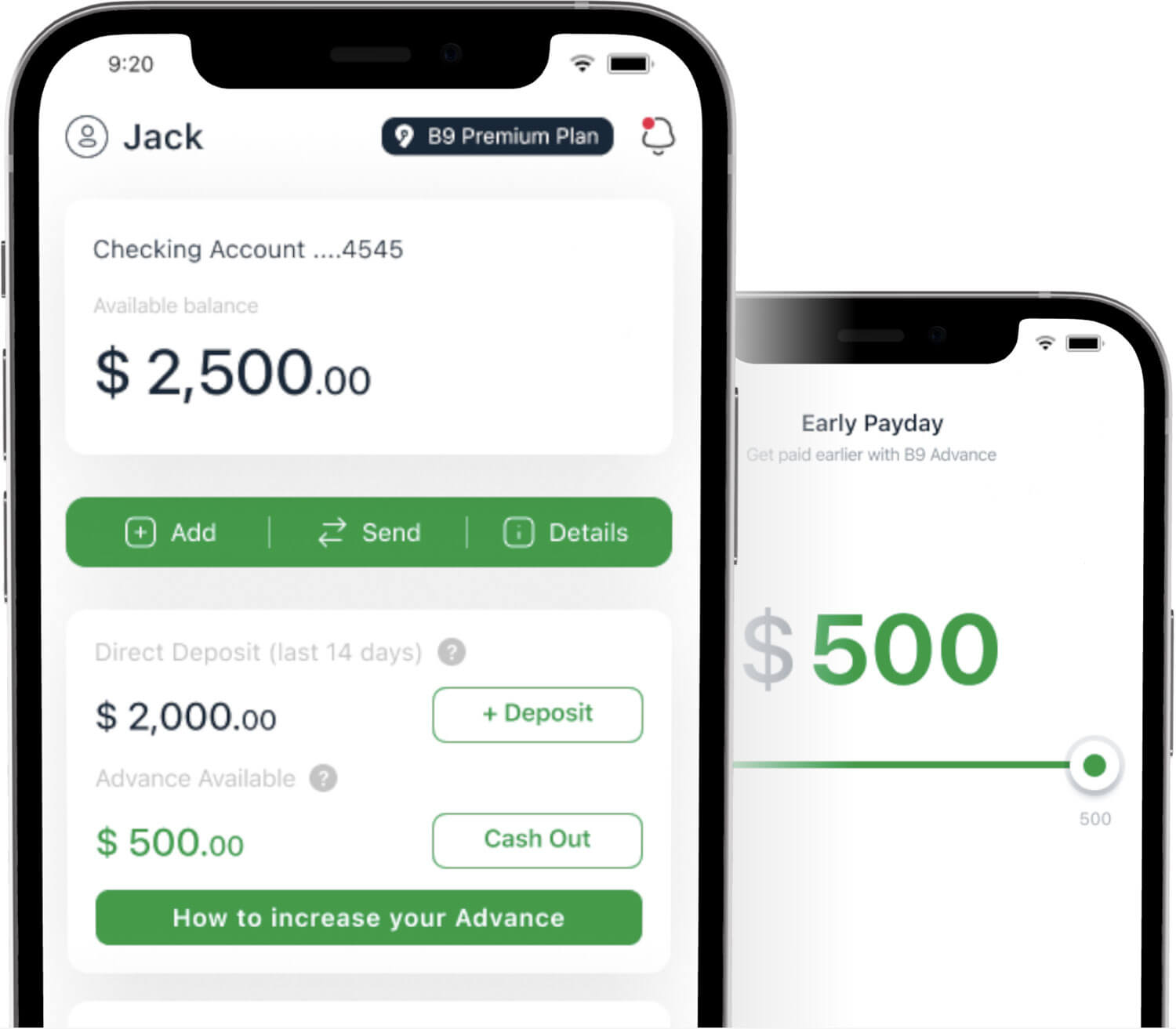 Legal
Contacting B9 Customer Support
B9's Customer Success Team is here to help you when you need us!
For faster assistance, our FAQ has answers for our most frequently asked questions and is available to you 24/7.
In-App Support
Our Agents are available for B9 members via in-app support tab:
Mon-Fri: 5 AM to 9 PM Pacific Standard Time (8 AM to 12 AM Eastern Standard Time)
Sat-Sun: 6 AM to 6 PM Pacific Standard Time (9 AM to 9 PM Eastern Standard Time)
Email Us You may email us at support@bnine.com, one of our friendly Customer Success Team members will answer in 24-48 hours.
For additional support you may phone us by clicking on the FAQ for our hours of availability.
Complaints
Banking services are provided by Mbanq banking partners, Members FDIC. To report a complaint relating to banking services, email compliance@mbanq.com
✅ Salary advance form doc filler
✅ All in one mobile app!
✅ Salary advance form doc filler - Bnine
Salary advance form doc
When emergency circumstances come into our lives, we are more likely to carry out rash actions to find the needed money. Some people tend to take payday loans even with an average credit score. But some lenders will charge you extra and make it only worse.
The best alternative to such unreliable methods is a Salary Advance. With this type of loan, you will be able to repay your debt safely and fastly. Moreover, salary advances give you an opportunity to make beneficial savings and may be found in your local credit union.
Salary advance form doc 3
Salary Advance by itself is a newly introduced financial option that lets you have your salary earlier than the official payday set by the employer. It is presented by the wage advance companies and lets you borrow money from your own salary by just taking it gradually, as you earn it, and not as a single paycheck.
Here are the distinctive features of the Salary Advance loan:
By having the loan approved, you also get access to financial counseling along with the savings account, to which the funds transfer is made
The maximum loan amount is 500 dollars throughout one paycheck period
It includes no fees at all
Interest rate percentage decreases each time the deposit sum is covered
Free all-day access and self-serve of the account
To be eligible to take the advance, an employee should be not less than 18 years old
However, each withdrawal should be discussed with a credit union officer. It is a drawback of a salary advance loan, yet it helps to monitor your funds balance. Taking the cash away without letting the officer know may cause a one-year delay in your borrowing privileges. As follows, you should make a request each time you want to take out some cash.
Salary advance form doc to pdf
With each new loan advance, some part of the advanced payment is converted into a deposit for your savings account. You will have access to these funds in the future, which is very helpful since the loan terms help you save this money and be able to use them. Thus, your account gives you stable dividends, which improves your balance.
Talking about the APR and required deposit, since each loan has to be no more than 500 dollars each month, you have to commit investments to cover the borrowed sum. If the salary advance cash account balance is less than 500 dollars, the APR equals 12%, and the cumulative percentage for the initial deposit comes to be only 5%.
In contrast, when you have more than 500 dollars, the APR decreases to 5.50%, and the deposit comes up to 7% of the loan advance.
Your Salary Advance Cash Account
In addition, your salary advance cash account is not so easy to access since the funds work as collateral for the advance loan at the same time. It is a guarantee that the accrued interest and the amount of the initial loan will be repaid. Also, note that the payment should be produced on the established pay date and by one payment process.
Salary advance form doc-21aa
You have to remember that there is no access to the accumulated salary advance. And even if the request to withdraw funds is accepted, the borrowing privileges will be delayed for about a month.
More salary advance links