B9 Advance is a free financial benefit built with you in mind.
Built right into the B9 Wallet, B9 Advance helps you cover unexpected expenses between paydays.
B9 ADVANCE HELPS YOU HAVE ACCESS TO CASH WHEN YOU NEED IT MOST
Available within the B9 Wallet app, B9 Advance gives you access to money between paydays. It's repaid automatically from your paycheck.
No credit checks
No additional fees
No additional interest
Best of all, it is free for you!
Smart limits are in place to help you from overspending.
Funds available instantly with a B9 debit card*
FOR WHOM B9 ADVANCE IS BEST SUITED
GIG workers
Hard workers
Immigrants
Students
Anyone with credit history problems or without credit history
SURPRISE EXPENSES CAN POP UP AT ANY TIME
Life never goes according to plan. B9 Advance has you covered!
20% of households have less than $400 in their checking or savings accounts.
*The 2019 Survey of Consumer Finances (SCF)
Many of the people who have $400 or more available to them likely have already separated that money for another obligation (and so, in other words, the cash isn't really available to them).
*The 2019 Survey of Consumer Finances (SCF)
HOW IT WORKS
Access your B9 Advance right in your B9 Wallet.
Set up your direct
deposit allocation
Via paper form submitted to your employer
Directly through the B9 App
Funds are credited after the first direct deposit to B9
To increase
your limit
Increase your direct deposit allocation
Add more funds to your B9 account to increase your limit
---
Just a quick recap of how our famous B9 Advance works:
STILL HAVE QUESTIONS? WE HAVE ANSWERS
How does it work?
Switch your direct deposit to your B9 account
here
> Wait until you get the first funds credited to your B9 account > Check out your B9 Advance allotment and cash out your earnings earlier -- no more waiting around for your paycheck!
How much does it cost?
It's completely FEE-FREE!
What if I send funds out of my B9 account?
If you direct funds outside of your paycheck to your B9 account those funds will not count towards your payroll deposit.
All your questions answered
Darliene
I was in a tight pinch and b9 advanced me $100 at 1st I wasn't sure about this app but they actually pulled through. I'm definitely sticking with b9:)
Bean
Also I'm going to everything that I need to do is keep one of the notifications of the V9 and abilities of the expectations of the remarkable institutions
Kevin Jackson
B9 is a great banking app. They give you early access To your direct deposits and they have pretty quick customer support. I have used them for a couple months and will continue to do so.
Joe Hansbrough
Very easy to use customer service was really quick to fix the problem that I had will definitely be recommending this to my family and friends
Rowena Abieras
At first I didn't think the app was legit but it is. I'm happy that there's an app that does advances for those who are self employed (gig worker). Thank you B9!
Menterro Hambrick
I just recently started using the service and it has exceeded my expectations!!! The features alone was worth switching over my full deposit.
William Magpantay
EXCEPTIONAL BANKING SERVICE B9's app is user friendly and their customer service is exceptional. Personally, the best features of B9 are their Cash Advance and getting paid up 15 days early. What more can you ask for? TWO THUMBS UP! Great job, guys!
Chris B
They gave me an advance when nobody else would. They also made it super easy to switch my direct deposit over. Extremely helpful customer service
Brian Ramsey
B9 is a great company that offers the world's best cash advance opportunities.The customer service is outstanding and persues excellence in assisting you.I recommend this company to anyone.
Elizabeth Konkle
Fantastic service Enrollment was fast and easy. My direct deposit went through the same week, and I was immediately eligible to get an advance on my pay. The virtual card was useful while waiting in my card to arrive
Elyanna Alvarez
I love b9 my direct deposit comes in earlier than my normal bank! I also love the cash advance option as I sometimes need my paycheck asap. Awesomeness
Patricia
Payday advance. I was in need of money before my payday. I didn't want to take out a personal or payday loan and pay high interest rates. With B9, I was able to receive an instant payday advance over a week before my actual payday. Sign up was simple and quick. B9 came through and saved me a lot of time, money worry and stress. The advance will be deducted from my payday direct deposit without the high interest rates attached!
GENERAL FREQUENTLY ASKING QUESTIONS ABOUT BANKING AND ADVANCES
How to get an online debit card?
An option of creating an online debit card depends on your bank. If it has such a function, then your first action would be to find out how to order it. In some banks, it is done through its application, in others by the website. The third possibility is to directly call the bank and find out their instructions. In any case, you will have a possibility to find out about documents that are needed, the blanks that you should sign, and the approximate amount of time after which the card will be ready. The first two are similar in most banks, but the last one can vary. In general, your debit card will be in process for no longer than two working weeks. Nowadays, many banks are able to create cards faster, but it also depends on your country and city.
What to do if you lost your debit card?
If you lose your debit card, there is no need to panic. It is enough to take certain actions in time to secure your money. After finding the loss, the first thing you need to do is report it to your bank. They will block the card, which will save you from losing money. The phone number of your bank, by which you can report the loss, is easy to find on the Internet. The bank representative will not only block the card but will also tell you what needs to be done to issue a replacement. Usually, the bank does this on its own within a few working days. Many banks' cards can now be blocked through the application. This can save you precious minutes to prevent attackers from taking advantage of your money. Also, check your bank payment history to see if there have been any suspicious transactions in your account. If something like this is found, then save the information and transfer the data to your bank and/or police.
I lost my debit card how can I get money?
You can only withdraw money from a stolen or lost card if you have not blocked it. The actual amount will not be withdrawn from the plastic card but from the card account to which it is linked. All options for withdrawing money from a card account: Transfer to another card. If you remember the card details, have access to online banking, or have a template created in your personal office, you can transfer money to any other card, either within your bank or to another bank. The lost card can then be blocked and reissued. At an ATM. Some self-service terminals allow you to withdraw money using the phone number linked to your credit card. You will have to confirm the transaction with a code, which will be sent to your authorized mobile phone number by SMS. At the bank's cash desk. You can get the money at the cashier's desk of your bank with your passport. But this will take a long time, so this option is suitable if you can get to the office and cash out quickly. If it's a long way to the counter, fraud
How do I get my unemployment debit card?
The unemployment card is issued by a bank chosen by your state. In most cases, it's a US Bank, Bank of America, or Central Bank. Once your claim for benefits is approved, it takes 7-10 days for the card to be issued. Once you've got the card, you have to activate it online or by phone. In some states, the unemployment card is issued before the first payment, so you will have zero balance at first. Keep the card after finding a job because if you apply for benefits another time, it will be used again without the need to wait for reissuing.
How to check the balance on a debit card?
People use debit cards for various types of money transactions, including sending and receiving money, making purchases, as well as saving and investing. The principle of a debit card is that it holds the funds that you actually have. So when you make a payment, you use your own money and not the money your bank lends you (as you would do with a credit card). Thus, with a debit card, you will not exceed your credit limit since there is no such thing. But to be sure that you have enough money for a purchase, you need to be aware of how much money you have. To know that, you need to check on your card's balance regularly. There are several ways to do it. The first way is to insert your card into an ATM machine and go to the balance check tab. The second way to check your card's balance is to go online to your bank's website and log in to your account. You may also check your debit card's balance via a mobile banking application.
How to transfer money from PayPal® to a debit card instantly?
Unlike a regular transfer from PayPal® to a bank account that usually takes from one to three days and is free for users, to do an instant transfer, you have to pay a fee. But it takes only a few minutes. Visit the Summary section and tap on Accept the money. After that, select Transfer money and specify that you want to receive it on your debit card. Make sure that you fill in the information about your debit card in the section of Instant transaction. Fill in the sum, check if the data is correct and confirm the operation.
How to cancel a pending transaction on a debit card?
If you use debit cards, you know a pending transaction. Indeed, it is a process that takes place between two systems (from your bank to the seller). Until the bank approves the transaction, the payment is pending. Even though such a process takes several seconds, you may waive the fee. If you want to cancel this process, tell the seller about it. You may do it if you promptly call your bank to resolve the problem. However, keep in mind that the vendor must confirm the cancellation of the transfer. On the other hand, scammers often make purchases with other people's cards. If you see a pending transaction that you did not make, contact the bank promptly. In this case, the bank will cancel the transaction and block the card to eliminate fraud.
How to get a debit card at 16?
There are two ways to acquire a card for a teenage kid. The first one is to set up an addition to your own bank account, a sub-account for your kid that includes a debit card. This will let your kid withdraw cash using an ATM, as well as purchase goods in stores and online. This option gives an ability to control kid's expenditures. The second way is a children's prepaid card. This type of card has no bank account associated with it. Rather, you pre-fund it with funds that your youngster may spend in stores, online, or withdraw from an ATM.
How can someone use your debit card without the card?
Some people believe that it is impossible to use a card without knowing a PIN and a card number. However, the majority of people are unaware that a full card number is not only written on a card itself but on every receipt that you receive after completing an offline transaction. If you do not tear this paper apart or keep it in your wallet, fraudsters will use this opportunity to steal your money. Moreover, they do not even need to know a PIN to use a debit card. So always be careful and do not reveal your card's data.
What is an account number on a debit card?
An account number (or a primary account number) that one will find on the front side of their credit or debit card is a row of digits ranging from 14 to 19 digits in total. Such sets of digits are unique for each emitted bank card and are assigned to particular accounts. An account number, however, can be found not only on credit or debit cards. They are also often used for various types of plastic cards such as discount cards, gift cards, etc. But whatever type of card the number is placed on, one thing always remains the same - it is the function of a number that makes it a unique identifier of a card.
How to send money online using debit card?
If you have a debit card, you may make transactions, as well as bank transfers. In general, any debit card is linked to a bank account. To make a transfer, you will need the recipient's details. The online method is the simplest translation option. You need to go to the mobile application, select the card from which the money will be debited, enter the recipient's account (or phone number) and send the money. In any case, the main thing is to check all the data, the card number, and the recipient's account.
How to add money to PayPal® from a debit card?
PayPal® is an extremely popular online transaction platform. It's been around for years and has met extensive use all around the world. People use the platform for online purchases, as well as for money transactions for other purposes. If you are a PayPal® wallet owner, you can also attach an offline card to it. That will broaden your online transaction toolset. If you want to link your offline debit card to your PayPal® wallet, you need to do the following: enter your PayPal® account, go to the wallet settings, choose the link card option. Then, you will be asked to provide the necessary information about your card and confirm the action. The system will then send you a confirmation code. Enter it to complete the procedure.
Free download for iOS and Android
No extra apps needed to move your funds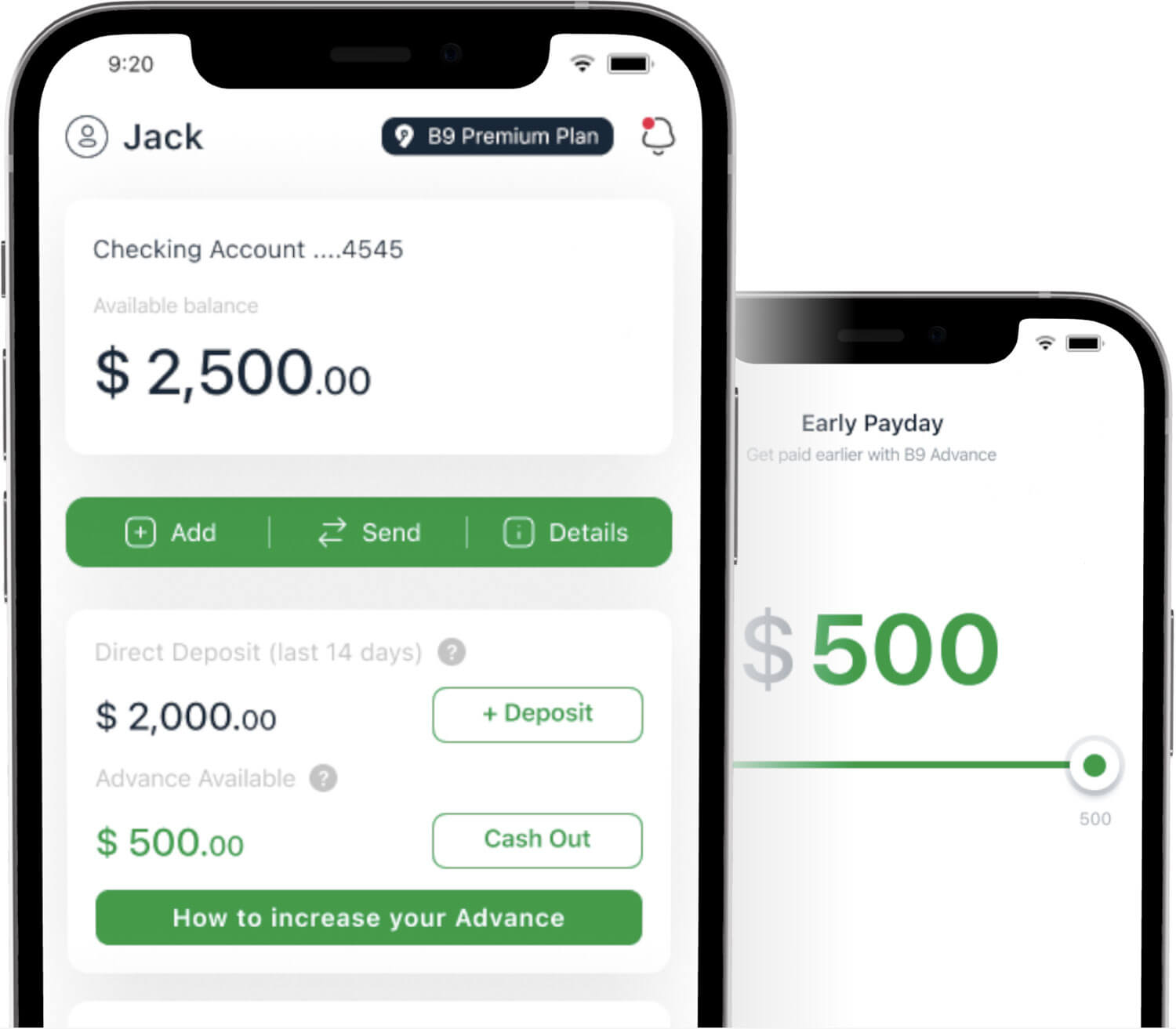 Legal
Contacting B9 Customer Support
B9's Customer Success Team is here to help you when you need us!
For faster assistance, our FAQ has answers for our most frequently asked questions and is available to you 24/7.
In-App Support
Our Agents are available for B9 members via in-app support tab:
Mon-Fri: 5 AM to 9 PM Pacific Standard Time (8 AM to 12 AM Eastern Standard Time)
Sat-Sun: 6 AM to 6 PM Pacific Standard Time (9 AM to 9 PM Eastern Standard Time)
Email Us You may email us at support@bnine.com, one of our friendly Customer Success Team members will answer in 24-48 hours.
For additional support you may phone us by clicking on the FAQ for our hours of availability.
Complaints
Banking services are provided by Mbanq banking partners, Members FDIC. To report a complaint relating to banking services, email compliance@mbanq.com
✅ Salary advance deduction rules
✅ All in one mobile app!
✅ Salary advance deduction rules - Bnine
Salary advance deduction format
When emergency circumstances come into our lives, we are more likely to carry out rash actions to find the needed money. Some people tend to take payday loans even with an average credit score. But some lenders will charge you extra and make it only worse.
The best alternative to such unreliable methods is a Salary Advance. With this type of loan, you will be able to repay your debt safely and fastly. Moreover, salary advances give you an opportunity to make beneficial savings and may be found in your local credit union.
Salary advance deduction letter
Salary Advance by itself is a newly introduced financial option that lets you have your salary earlier than the official payday set by the employer. It is presented by the wage advance companies and lets you borrow money from your own salary by just taking it gradually, as you earn it, and not as a single paycheck.
Here are the distinctive features of the Salary Advance loan:
By having the loan approved, you also get access to financial counseling along with the savings account, to which the funds transfer is made
The maximum loan amount is 500 dollars throughout one paycheck period
It includes no fees at all
Interest rate percentage decreases each time the deposit sum is covered
Free all-day access and self-serve of the account
To be eligible to take the advance, an employee should be not less than 18 years old
However, each withdrawal should be discussed with a credit union officer. It is a drawback of a salary advance loan, yet it helps to monitor your funds balance. Taking the cash away without letting the officer know may cause a one-year delay in your borrowing privileges. As follows, you should make a request each time you want to take out some cash.
Salary advance deduction rules in income tax
With each new loan advance, some part of the advanced payment is converted into a deposit for your savings account. You will have access to these funds in the future, which is very helpful since the loan terms help you save this money and be able to use them. Thus, your account gives you stable dividends, which improves your balance.
Talking about the APR and required deposit, since each loan has to be no more than 500 dollars each month, you have to commit investments to cover the borrowed sum. If the salary advance cash account balance is less than 500 dollars, the APR equals 12%, and the cumulative percentage for the initial deposit comes to be only 5%.
In contrast, when you have more than 500 dollars, the APR decreases to 5.50%, and the deposit comes up to 7% of the loan advance.
Your Salary Advance Cash Account
In addition, your salary advance cash account is not so easy to access since the funds work as collateral for the advance loan at the same time. It is a guarantee that the accrued interest and the amount of the initial loan will be repaid. Also, note that the payment should be produced on the established pay date and by one payment process.
Salary advance deduction usps
You have to remember that there is no access to the accumulated salary advance. And even if the request to withdraw funds is accepted, the borrowing privileges will be delayed for about a month.
More salary advance links