B9 Advance is a free financial benefit built with you in mind.
Built right into the B9 Wallet, B9 Advance helps you cover unexpected expenses between paydays.
B9 ADVANCE HELPS YOU HAVE ACCESS TO CASH WHEN YOU NEED IT MOST
Available within the B9 Wallet app, B9 Advance gives you access to money between paydays. It's repaid automatically from your paycheck.
No credit checks
No additional fees
No additional interest
Best of all, it is free for you!
Smart limits are in place to help you from overspending.
Funds available instantly with a B9 debit card*
FOR WHOM B9 ADVANCE IS BEST SUITED
GIG workers
Hard workers
Immigrants
Students
Anyone with credit history problems or without credit history
SURPRISE EXPENSES CAN POP UP AT ANY TIME
Life never goes according to plan. B9 Advance has you covered!
20% of households have less than $400 in their checking or savings accounts.
*The 2019 Survey of Consumer Finances (SCF)
Many of the people who have $400 or more available to them likely have already separated that money for another obligation (and so, in other words, the cash isn't really available to them).
*The 2019 Survey of Consumer Finances (SCF)
HOW IT WORKS
Access your B9 Advance right in your B9 Wallet.
Set up your direct
deposit allocation
Via paper form submitted to your employer
Directly through the B9 App
Funds are credited after the first direct deposit to B9
To increase
your limit
Increase your direct deposit allocation
Add more funds to your B9 account to increase your limit
---
Just a quick recap of how our famous B9 Advance works:
STILL HAVE QUESTIONS? WE HAVE ANSWERS
How does it work?
Switch your direct deposit to your B9 account
here
> Wait until you get the first funds credited to your B9 account > Check out your B9 Advance allotment and cash out your earnings earlier -- no more waiting around for your paycheck!
How much does it cost?
It's completely FEE-FREE!
What if I send funds out of my B9 account?
If you direct funds outside of your paycheck to your B9 account those funds will not count towards your payroll deposit.
All your questions answered
Author
It's a good app only thing is they charge you atm fees I used AllPoint Atm thinking it would of been free but Nope still got charged
Aerie Morgan
B9 has helped me through my financial struggles now for the last three weeks. They make it easy to get a loan till payday and easy to pay back the loan on payday.
Bean
Also I'm going to everything that I need to do is keep one of the notifications of the V9 and abilities of the expectations of the remarkable institutions
kurbside
B9 is grrrrreat i really like this service and thanks B9 your the coolest awsomest app ever thanks so much be safe guys and god bless america give B9 a try seriously its grrrrrrrrrrrrreat
Marcellus Fails
This application is great! I had a problem and they was quick to fix it and emailed me back everytime I emailed them!!!!
Brian Ramsey
B9 is a great company that offers the world's best cash advance opportunities.The customer service is outstanding and persues excellence in assisting you.I recommend this company to anyone.
Janaya Andrews
I love the app so much it makes everything fast and easy to get to and when your low on funds this app really does help with that problem a lot I know that this app helps me so hey why don't you go ahead and download this app for your next payday
Elyanna Alvarez
I love b9 my direct deposit comes in earlier than my normal bank! I also love the cash advance option as I sometimes need my paycheck asap. Awesomeness
Chris B
They gave me an advance when nobody else would. They also made it super easy to switch my direct deposit over. Extremely helpful customer service
Brittnay Setting
B9 has been so helpful in the past recent weeks! Our family came into some rough patches and this app was the perfect way of advancing my own hard earned money and not charging me an arm and a leg to receive it sooner! I am so happy I signed up and will continue using it! the creator is the real GOAT!
Dom Delacruz
A Banking app you can trust! This online banking app is one of the best I have used so far. They are new and upcoming but yet they are built and based around the customer. Which is hard to come by now a days. There customer service is amazing and there additional features really help out. Especially during this hard times. (COVID)
Vicente
I love this app best way for advance virtual card instantly and mailed real card. Instacash after repayment aswell
GENERAL FREQUENTLY ASKING QUESTIONS ABOUT BANKING AND ADVANCES
How to transfer money from PayPal® to a debit card instantly?
Unlike a regular transfer from PayPal® to a bank account that usually takes from one to three days and is free for users, to do an instant transfer, you have to pay a fee. But it takes only a few minutes. Visit the Summary section and tap on Accept the money. After that, select Transfer money and specify that you want to receive it on your debit card. Make sure that you fill in the information about your debit card in the section of Instant transaction. Fill in the sum, check if the data is correct and confirm the operation.
How to get a prepaid debit card?
A prepaid card does not differ from a regular debit card much. You have to put your money on prepaid cards just like with any other card. Use them to pay for goods at all shops that have an option of paying by card. Choose between major card providers such as Mastercard® and Visa®Card, depending on your needs. Register a new prepaid card in a bank that you usually go to or an organization that specializes in credit cards. After the card was registered, use it like a regular debit card. Do transfers, receive money from friends and family, pay for goods as long as you have enough money on your account.
How to cancel all subscriptions on your debit card?
Most of our transactions are now done through our smartphones, and by means of them, the subscriptions can be canceled. In iPhones, open your settings and search for iTunes and App Stores' menu. There, choose to enter Apple ID and look for the subscriptions tab. Afterward, you will see all of them and can easily cancel those that you need. In Androids, the same can be done through your Google account. If your membership was made by means of other devices, then look for the website of this company and cancel it there, or call them and ask for the break of the contract.
How to send money using debit card online?
The most convenient and frequently used method of transferring money online is a transfer via a debit card. There are several specially developed services designed for making transfers and payments. Firstly, you may use the Western Union service. This service operates both at the national and international levels and charges fees for each transfer. You may transfer money through the official website of the service, following all the instructions. The second method is to transfer money through Moneygram, where you need to activate and link a debit card. Finally, the simplest option is to transfer funds online via PayPal® or any similar service. When your card is authorized and linked to the service, you will be able to transfer money online.
How to stop recurring payments on a debit card?
Most people often connect recurring payments for more convenient payment for services. You do not need to think about it constantly because your funds are debited automatically. However, if you want to stop a recurring payment, follow these steps. The first way is to disable recurring payments through your bank's online application. Usually, you may change this function in the settings. Select the desired account from which money is debited, and change the data on the regularity of debiting funds.
How to get money off a debit card online?
Unfortunately, it will not be possible to get cash on hand online because the money on the card is stored in cloud storage. In order to withdraw cash, you definitely need an ATM; use it by entering your PIN-code and click on the "cash withdrawal" button, then select the amount you need, and do not forget to pick them up. If there is no ATM near you, then in almost all places, there is the possibility of paying by card, where cash is not needed. And if you need to give money to another person, then use an Internet banking application to quickly transfer money to another card.
How to unlock a debit card?
Certain actions depend on the specific bank, but in most cases, it is really simple to unblock your card. Modern technologies allow you to use your bank's app for this. Usually, through the application, in just a couple of clicks, you can block or unblock your card. But if your card is stolen or lost, we do not recommend using it further. Better ask your bank to issue a new one. You may want to lock or unlock your card for other personal reasons as well. In such cases, it will be most convenient to use the app. But you can also do this by contacting the bank online or by phone.
What is the difference between a credit and a debit card?
A debit bank card acts as a personal account, where its owner's money is kept. For example, wages can be transferred to it, and the amount of withdrawal is limited to the limit of available funds on the account. Also, on the account of a card, you can deposit or withdraw cash. It can pay for online purchases and stores that accept payment online. You can also transfer funds to other banks via SMS, mobile application, or personal account on the website. A credit card is also can be used to make purchases and withdraw cash from ATMs or the bank itself. But the credit card gives more financial freedom to its owner: it allows you to travel, buy desirable things and gifts even when you don't have money of your own by the amount lent to you by the bank.
How to transfer money from a debit card to another debit card?
It depends on your bank. This procedure can be done by using the bank's app or the site or by going to an ATM. In any case that you prefer or is available to you, actions are quite the same. You need to click on a button that would allow you to transfer the money (in different banks, it will be named variously, but the meaning stays the same) and choose where to send it, which is, in our case, another debit card. Then fill in the line for the amount of money given away and make sure that all information about the recipient's debit card is correct. Click to send, and that's it. However, note that different banks can commission you for sending the money to another's bank client.
How much does a debit card cost?
As a rule, the bank provides people with debit cards for free after applying. Unlike credit cards, debit cards do not involve debts and huge fees: you may use the card at any time, paying for any services. There are several possible options for charging for using a debit card. Firstly, it is a monthly maintenance fee. In the United States, such a fee varies from $10 to $15. However, if you keep a certain minimum balance on the card every month, the bank cancels the monthly maintenance fee. The second point is the withdrawal of cash from ATMs of other banks. Such a fee is no more than five dollars for withdrawing money. Finally, you will have to pay for transactional transfers. In this case, the transaction fee depends on the transfer amount.
An overdraft option is only possible if first, your bank has such an option, and second if you gave your bank consent for this possibility. If you didn't know about overdraft for a debit card before, call your bank and ask them if they can make it happen. After that, you won't have to worry about having a zero balance because your bank will back you up. But of course, there is a price for it, and it is usually about 35 dollars.
How to add money to PayPal® from a debit card?
PayPal® is an extremely popular online transaction platform. It's been around for years and has met extensive use all around the world. People use the platform for online purchases, as well as for money transactions for other purposes. If you are a PayPal® wallet owner, you can also attach an offline card to it. That will broaden your online transaction toolset. If you want to link your offline debit card to your PayPal® wallet, you need to do the following: enter your PayPal® account, go to the wallet settings, choose the link card option. Then, you will be asked to provide the necessary information about your card and confirm the action. The system will then send you a confirmation code. Enter it to complete the procedure.
Free download for iOS and Android
No extra apps needed to move your funds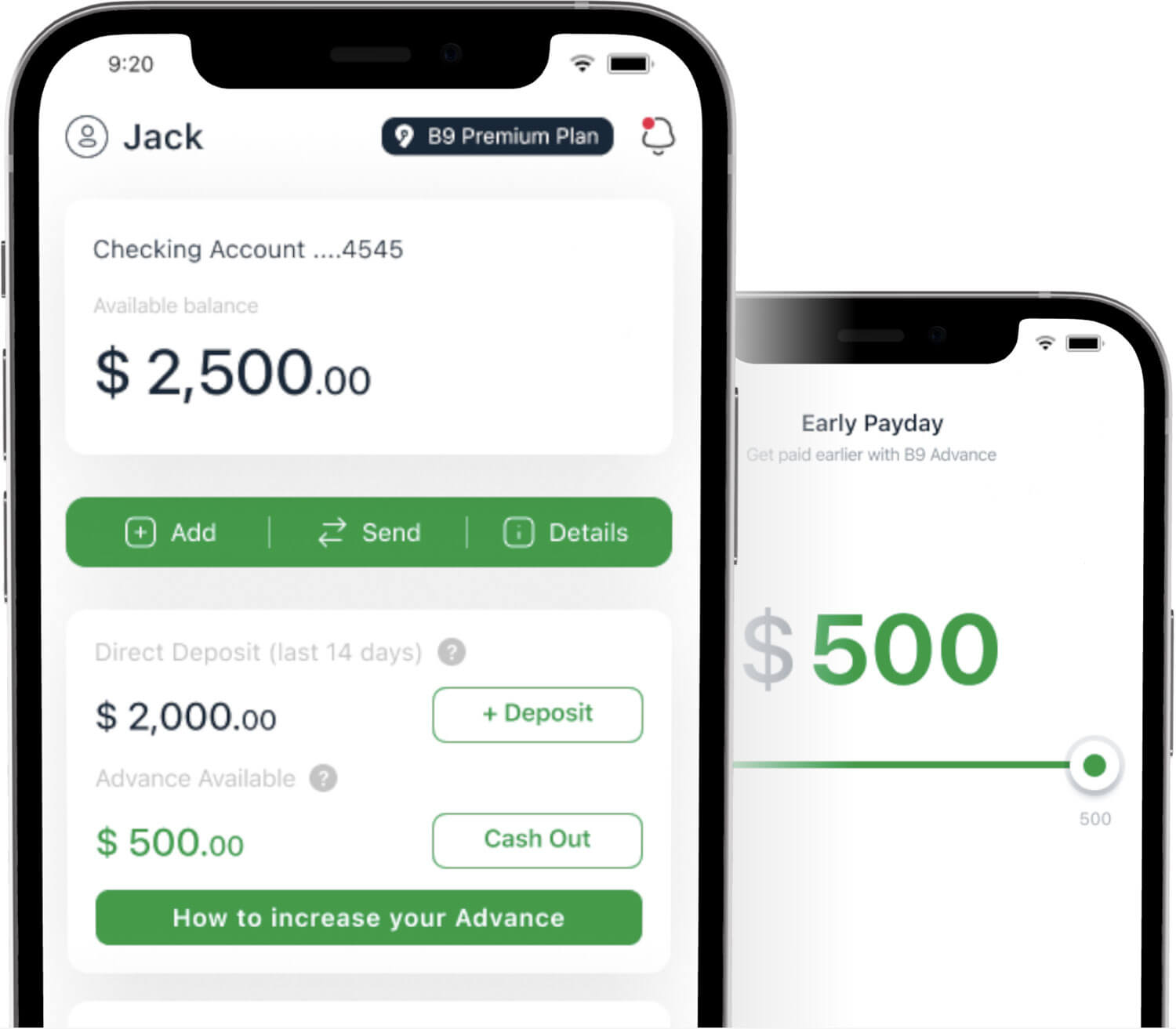 Legal
Contacting B9 Customer Support
B9's Customer Success Team is here to help you when you need us!
For faster assistance, our FAQ has answers for our most frequently asked questions and is available to you 24/7.
In-App Support
Our Agents are available for B9 members via in-app support tab:
Mon-Fri: 5 AM to 9 PM Pacific Standard Time (8 AM to 12 AM Eastern Standard Time)
Sat-Sun: 6 AM to 6 PM Pacific Standard Time (9 AM to 9 PM Eastern Standard Time)
Email Us You may email us at support@bnine.com, one of our friendly Customer Success Team members will answer in 24-48 hours.
For additional support you may phone us by clicking on the FAQ for our hours of availability.
Complaints
Banking services are provided by Mbanq banking partners, Members FDIC. To report a complaint relating to banking services, email compliance@mbanq.com
✅ Pnc salary advance loan
✅ All in one mobile app!
✅ Pnc salary advance loan - Bnine
Planters fort smith ar machine operator advance salary
When emergency circumstances come into our lives, we are more likely to carry out rash actions to find the needed money. Some people tend to take payday loans even with an average credit score. But some lenders will charge you extra and make it only worse.
The best alternative to such unreliable methods is a Salary Advance. With this type of loan, you will be able to repay your debt safely and fastly. Moreover, salary advances give you an opportunity to make beneficial savings and may be found in your local credit union.
Planters machine operator advance salary
Salary Advance by itself is a newly introduced financial option that lets you have your salary earlier than the official payday set by the employer. It is presented by the wage advance companies and lets you borrow money from your own salary by just taking it gradually, as you earn it, and not as a single paycheck.
Here are the distinctive features of the Salary Advance loan:
By having the loan approved, you also get access to financial counseling along with the savings account, to which the funds transfer is made
The maximum loan amount is 500 dollars throughout one paycheck period
It includes no fees at all
Interest rate percentage decreases each time the deposit sum is covered
Free all-day access and self-serve of the account
To be eligible to take the advance, an employee should be not less than 18 years old
However, each withdrawal should be discussed with a credit union officer. It is a drawback of a salary advance loan, yet it helps to monitor your funds balance. Taking the cash away without letting the officer know may cause a one-year delay in your borrowing privileges. As follows, you should make a request each time you want to take out some cash.
Policy on salary advance
With each new loan advance, some part of the advanced payment is converted into a deposit for your savings account. You will have access to these funds in the future, which is very helpful since the loan terms help you save this money and be able to use them. Thus, your account gives you stable dividends, which improves your balance.
Talking about the APR and required deposit, since each loan has to be no more than 500 dollars each month, you have to commit investments to cover the borrowed sum. If the salary advance cash account balance is less than 500 dollars, the APR equals 12%, and the cumulative percentage for the initial deposit comes to be only 5%.
In contrast, when you have more than 500 dollars, the APR decreases to 5.50%, and the deposit comes up to 7% of the loan advance.
Your Salary Advance Cash Account
In addition, your salary advance cash account is not so easy to access since the funds work as collateral for the advance loan at the same time. It is a guarantee that the accrued interest and the amount of the initial loan will be repaid. Also, note that the payment should be produced on the established pay date and by one payment process.
Predatory salary advance documentary
You have to remember that there is no access to the accumulated salary advance. And even if the request to withdraw funds is accepted, the borrowing privileges will be delayed for about a month.
More salary advance links