B9 Advance is a free financial benefit built with you in mind.
Built right into the B9 Wallet, B9 Advance helps you cover unexpected expenses between paydays.
B9 ADVANCE HELPS YOU HAVE ACCESS TO CASH WHEN YOU NEED IT MOST
Available within the B9 Wallet app, B9 Advance gives you access to money between paydays. It's repaid automatically from your paycheck.
No credit checks
No additional fees
No additional interest
Best of all, it is free for you!
Smart limits are in place to help you from overspending.
Funds available instantly with a B9 debit card*
FOR WHOM B9 ADVANCE IS BEST SUITED
GIG workers
Hard workers
Immigrants
Students
Anyone with credit history problems or without credit history
SURPRISE EXPENSES CAN POP UP AT ANY TIME
Life never goes according to plan. B9 Advance has you covered!
20% of households have less than $400 in their checking or savings accounts.
*The 2019 Survey of Consumer Finances (SCF)
Many of the people who have $400 or more available to them likely have already separated that money for another obligation (and so, in other words, the cash isn't really available to them).
*The 2019 Survey of Consumer Finances (SCF)
HOW IT WORKS
Access your B9 Advance right in your B9 Wallet.
Set up your direct
deposit allocation
Via paper form submitted to your employer
Directly through the B9 App
Funds are credited after the first direct deposit to B9
To increase
your limit
Increase your direct deposit allocation
Add more funds to your B9 account to increase your limit
---
Just a quick recap of how our famous B9 Advance works:
STILL HAVE QUESTIONS? WE HAVE ANSWERS
How does it work?
Switch your direct deposit to your B9 account
here
> Wait until you get the first funds credited to your B9 account > Check out your B9 Advance allotment and cash out your earnings earlier -- no more waiting around for your paycheck!
How much does it cost?
It's completely FEE-FREE!
What if I send funds out of my B9 account?
If you direct funds outside of your paycheck to your B9 account those funds will not count towards your payroll deposit.
All your questions answered
kurbside
B9 is grrrrreat i really like this service and thanks B9 your the coolest awsomest app ever thanks so much be safe guys and god bless america give B9 a try seriously its grrrrrrrrrrrrreat
Rob G
I've had nothing but a positive experience with B9. Account set up with easy and Bank verification was less than a day. It took a week for my direct deposit to hit so that they could give me an advance but once they could verify the income it was a very simple process. I would recommend to anyone.
Menterro Hambrick
I just recently started using the service and it has exceeded my expectations!!! The features alone was worth switching over my full deposit.
Author
It's a good app only thing is they charge you atm fees I used AllPoint Atm thinking it would of been free but Nope still got charged
Marcus Goodwin
B9 is a awesome and really helps when you need extra money.Also I like the fact it helps wen your are in a quick emergency , I would most definitely recommend them to anyone.
ziplo loveee
I love b9 they're amazing my money came quick and they gave me and advance and gave me a fair time to pay it I'm in love and I highly recommend
Andria Dixon
At first i was a little confused but after my first deposit i was able to advance an amount. Definitely happy and reccomend expecially during those pay gaps.
Danielle Cullum
The cash advance is the most simple process with B9! No credit check, you don't have to have a qualifying direct deposit into your account before you're eligible for the advance, it's completely hassle free. It honestly was a life saver and I was able to get it instantly in a very desperate time of need because of financial struggles due to the pandemic. It might have just been $100, but it put food on the table for me and my 2 year old son until I received my paycheck 4 days later! Thank you B9!
David Baca
We were provided excellent customer service. All responses were prompt and professional. Clearly, the upfront statement on our policy stated it was limited which told us that our preliminary research was not well thought out.
Armando
You guys help a lot of people out with your advance only thing I would do if I be were you guys is maybe advance a lil bit more money for the bigger families out there.
Jennifer
I was skeptical at first about the advances but it's great and easy to pay back. I also thought I wouldn't get paid 2 days early anymore but I do! I love my b9 account
Patricia
Payday advance. I was in need of money before my payday. I didn't want to take out a personal or payday loan and pay high interest rates. With B9, I was able to receive an instant payday advance over a week before my actual payday. Sign up was simple and quick. B9 came through and saved me a lot of time, money worry and stress. The advance will be deducted from my payday direct deposit without the high interest rates attached!
GENERAL FREQUENTLY ASKING QUESTIONS ABOUT BANKING AND ADVANCES
How do I get my unemployment debit card?
The unemployment card is issued by a bank chosen by your state. In most cases, it's a US Bank, Bank of America, or Central Bank. Once your claim for benefits is approved, it takes 7-10 days for the card to be issued. Once you've got the card, you have to activate it online or by phone. In some states, the unemployment card is issued before the first payment, so you will have zero balance at first. Keep the card after finding a job because if you apply for benefits another time, it will be used again without the need to wait for reissuing.
How much does a debit card cost?
As a rule, the bank provides people with debit cards for free after applying. Unlike credit cards, debit cards do not involve debts and huge fees: you may use the card at any time, paying for any services. There are several possible options for charging for using a debit card. Firstly, it is a monthly maintenance fee. In the United States, such a fee varies from $10 to $15. However, if you keep a certain minimum balance on the card every month, the bank cancels the monthly maintenance fee. The second point is the withdrawal of cash from ATMs of other banks. Such a fee is no more than five dollars for withdrawing money. Finally, you will have to pay for transactional transfers. In this case, the transaction fee depends on the transfer amount.
How can someone use your debit card without the card?
Some people believe that it is impossible to use a card without knowing a PIN and a card number. However, the majority of people are unaware that a full card number is not only written on a card itself but on every receipt that you receive after completing an offline transaction. If you do not tear this paper apart or keep it in your wallet, fraudsters will use this opportunity to steal your money. Moreover, they do not even need to know a PIN to use a debit card. So always be careful and do not reveal your card's data.
What is a prepaid debit card?
A prepaid card is a banking product that is a card with funds credited to it, similar to the gift cards of retail chains, as well as those of mobile operators and Internet service providers. There is no annual or another maintenance fee for such cards. The client is only charged a fee for issuing the card, which depends on its face value. The cards can be plastic with a magnetic stripe and CVC2 code or virtual. This card is not personalized and is not linked to an account. The owner of this card can make any purchases within the limit, which is set on the balance of funds and the total amount of funds transferred to the card.
An overdraft option is only possible if first, your bank has such an option, and second if you gave your bank consent for this possibility. If you didn't know about overdraft for a debit card before, call your bank and ask them if they can make it happen. After that, you won't have to worry about having a zero balance because your bank will back you up. But of course, there is a price for it, and it is usually about 35 dollars.
How long does it take for a debit card to arrive?
The delivery time for your new or reissued debit card depends on your bank. In most situations, cards will be delivered within 5-10 business days. If you need the card earlier, don't despair. Some banks can issue a card the very next day or after a couple of business days. Also, delivery times depend on the address. Perhaps the fastest way would be to pick up the card yourself at a bank branch. You can always clarify the terms by calling the support service.
How to check the balance on a debit card?
People use debit cards for various types of money transactions, including sending and receiving money, making purchases, as well as saving and investing. The principle of a debit card is that it holds the funds that you actually have. So when you make a payment, you use your own money and not the money your bank lends you (as you would do with a credit card). Thus, with a debit card, you will not exceed your credit limit since there is no such thing. But to be sure that you have enough money for a purchase, you need to be aware of how much money you have. To know that, you need to check on your card's balance regularly. There are several ways to do it. The first way is to insert your card into an ATM machine and go to the balance check tab. The second way to check your card's balance is to go online to your bank's website and log in to your account. You may also check your debit card's balance via a mobile banking application.
How to unblock a debit card?
As a rule, it is impossible to unlock a debit card independently since this process is controlled exclusively by the bank. If you need to unblock your card, call the bank. - Call the hotline When calling the hotline, you will need to provide your data and information about the card (number, three-digit CVV code). If the card has not expired, your card will be unblocked. In the bank, employees may also solve this problem. Provide the necessary documents, and the bank will reactivate your card within a few minutes.
What is the CVV on a debit card?
A CVV number is a special security code consisting of three-four digits. The code can be found on the opposite side of your debit card. Depending on the bank that issued your debit card, the number of digits in a CVV can insignificantly differ. What the abbreviation CVV stands for is the Card Verification Value, a numeric code that serves monetary safety and security purposes. It is extremely helpful because it ensures your funds are intact and no purchase with your card can be made without your permission. Often referred to as CVV2 numbers or CSC numbers, the extra-secure CVV codes are composed so that hackers and other fraudsters should fail to try to get the correct code to use your debit card and commit an unlawful act secretly.
How do banks investigate disputes on debit cards?
In each bank, there are particular people that are responsible for resolving transaction frauds. These people, bank investigators, will firstly look at the data of the transaction which came under the question. It can be an IP address of the purchase made or the unusual timing for this card, and so on. When the cardholder claims that the seller somehow tricked them, some additional info about this merchant may be obtained. If the situation becomes serious in the opinion of the bank, then outside forces, such as the police or the Federal Bureau of Investigation, could be incorporated.
What is a postal code on a debit card
A postal code is a special code that is unique for any geographical location. Postal codes make the mailing system function properly, with mail delivery reaching correct destinations. When speaking about debit cards, they also have their postal codes. But what for? In debit cards, a postal code is an additional security layer. It is a five-digit number that you will not find on your card's body. This code is mentioned in the debit card documents. This code is attached to the actual location when the cardholder resides and where the bills are mailed.
How to fix a declined debit card?
Debit cards can be declined for various reasons. Depending on which one is your case, you can take measures to fix it. The most common is insufficient funds. Keep track of your debit card balance. Deposit money using ATM or online banking applications on your phone. The second most common thing is exceeding the expiration date. Pay attention to your debit card's expiration date and order reissuing of another one in advance. Another reason for declining a card is entering the wrong PIN code multiple times. In order to avoid this, memorize your PIN code but never write it down on the plastic card itself; it may be used by smugglers. You may have exceeded your daily withdrawal limit. This measure is taken to limit unauthorized transactions. If you plan to make an expensive purchase or going on vacation and will change your spending pattern, inform your bank about it to expand your daily limit. When your bank sees an international transaction, it may consider that your personal information was stolen and u
Free download for iOS and Android
No extra apps needed to move your funds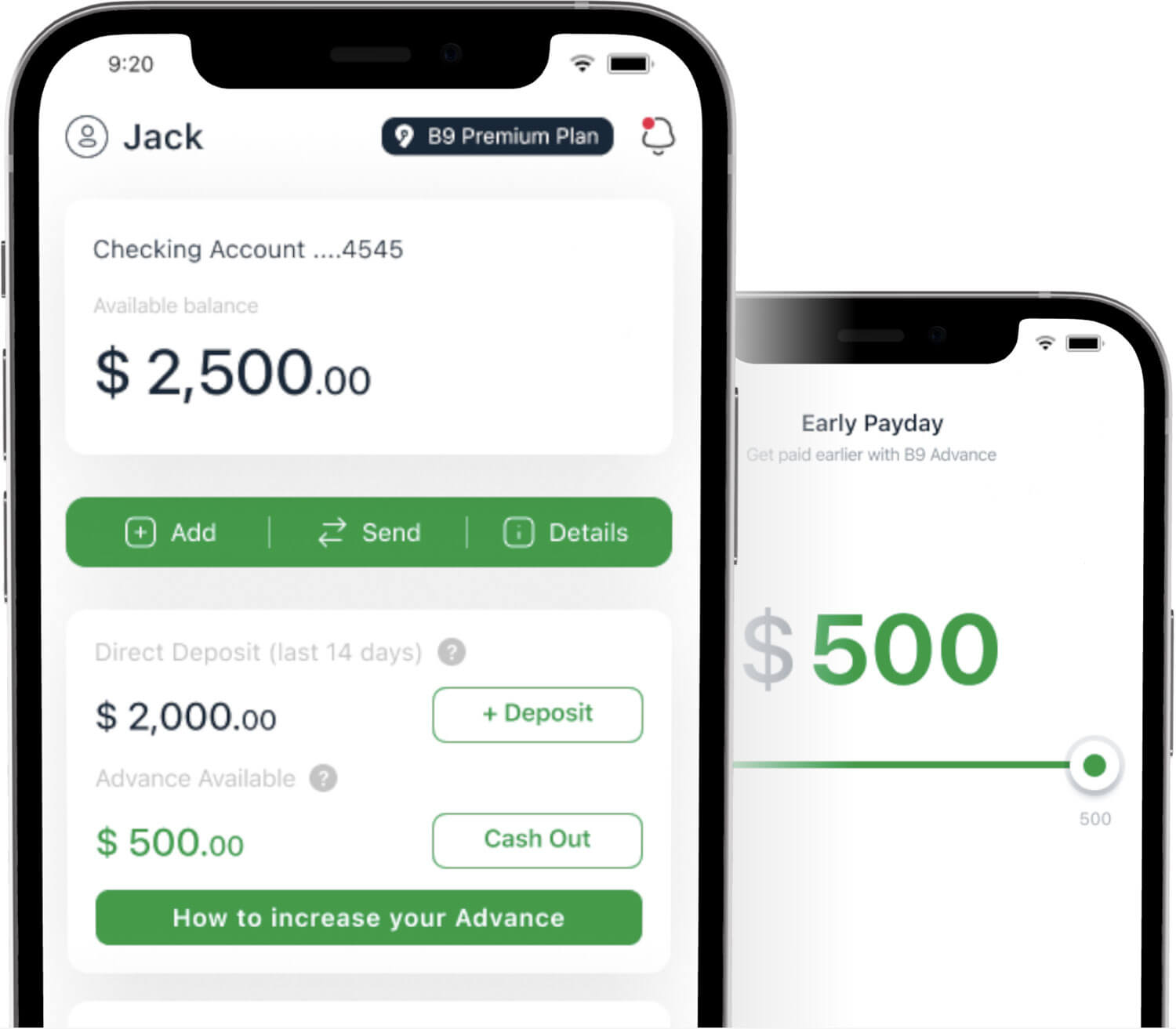 Legal
Contacting B9 Customer Support
B9's Customer Success Team is here to help you when you need us!
For faster assistance, our FAQ has answers for our most frequently asked questions and is available to you 24/7.
In-App Support
Our Agents are available for B9 members via in-app support tab:
Mon-Fri: 5 AM to 9 PM Pacific Standard Time (8 AM to 12 AM Eastern Standard Time)
Sat-Sun: 6 AM to 6 PM Pacific Standard Time (9 AM to 9 PM Eastern Standard Time)
Email Us You may email us at support@bnine.com, one of our friendly Customer Success Team members will answer in 24-48 hours.
For additional support you may phone us by clicking on the FAQ for our hours of availability.
Complaints
Banking services are provided by Mbanq banking partners, Members FDIC. To report a complaint relating to banking services, email compliance@mbanq.com
✅ Equity salary advance
✅ All in one mobile app!
✅ Equity salary advance - Bnine
Equity bank salary advance
When emergency circumstances come into our lives, we are more likely to carry out rash actions to find the needed money. Some people tend to take payday loans even with an average credit score. But some lenders will charge you extra and make it only worse.
The best alternative to such unreliable methods is a Salary Advance. With this type of loan, you will be able to repay your debt safely and fastly. Moreover, salary advances give you an opportunity to make beneficial savings and may be found in your local credit union.
Equity bank salary advance application form
Salary Advance by itself is a newly introduced financial option that lets you have your salary earlier than the official payday set by the employer. It is presented by the wage advance companies and lets you borrow money from your own salary by just taking it gradually, as you earn it, and not as a single paycheck.
Here are the distinctive features of the Salary Advance loan:
By having the loan approved, you also get access to financial counseling along with the savings account, to which the funds transfer is made
The maximum loan amount is 500 dollars throughout one paycheck period
It includes no fees at all
Interest rate percentage decreases each time the deposit sum is covered
Free all-day access and self-serve of the account
To be eligible to take the advance, an employee should be not less than 18 years old
However, each withdrawal should be discussed with a credit union officer. It is a drawback of a salary advance loan, yet it helps to monitor your funds balance. Taking the cash away without letting the officer know may cause a one-year delay in your borrowing privileges. As follows, you should make a request each time you want to take out some cash.
Equity salary advance loan
With each new loan advance, some part of the advanced payment is converted into a deposit for your savings account. You will have access to these funds in the future, which is very helpful since the loan terms help you save this money and be able to use them. Thus, your account gives you stable dividends, which improves your balance.
Talking about the APR and required deposit, since each loan has to be no more than 500 dollars each month, you have to commit investments to cover the borrowed sum. If the salary advance cash account balance is less than 500 dollars, the APR equals 12%, and the cumulative percentage for the initial deposit comes to be only 5%.
In contrast, when you have more than 500 dollars, the APR decreases to 5.50%, and the deposit comes up to 7% of the loan advance.
Your Salary Advance Cash Account
In addition, your salary advance cash account is not so easy to access since the funds work as collateral for the advance loan at the same time. It is a guarantee that the accrued interest and the amount of the initial loan will be repaid. Also, note that the payment should be produced on the established pay date and by one payment process.
Equity salary advance requirements
You have to remember that there is no access to the accumulated salary advance. And even if the request to withdraw funds is accepted, the borrowing privileges will be delayed for about a month.
More salary advance links